What does The Cap-Chek Project hope to accomplish?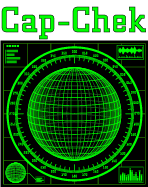 The goal of Cap-Chek is the development of an on-line, browser-based, real-time organizational assessment tool that is supported by a database archive of historical information. There are three main functional areas of the tool.
Assessment functions that guide assigned evaluators along a path of best practices and offer guidance that enables accurate assessments to be quickly determined, entered and permanently recorded.
Presentation functions that provde a variety of formats to view completed assessments. Presentations are most useful when they are comparative, contrasting, for instance, the assessment of the current user with the average of all assessments entered by his team. Likewise, the current project group assessment can be compared to historical assessments for the same organization or with assessments made for organizations similar in size and category.
Administrative functions needed to grant user access, control the assessment process and ensure the safe archival of historical data.
Why is this needed and important?
We live in times of increasing economic scarcity. Nonprofits today are faced with increased demands for servces whiile simultaneously experiencing reduced resources. It is imperative that each organization maximize the resources it does have by employing the best practices currently available. Cap-Chek is one part of that puzzle by offering nonprofits the opportunity to rapidly assess their current operations iin order to determine a direction for maximum effectiveness.
What's wrong with current approaches?
Current approaches are generally based on sound theory but lack implementation details that make them truly useful for assessment purposes. Specifically, they
Are generally paper-based making them cumbersome to use and prone to errors
Require manual scoring and aggregation of results into meaningful analysis for further deliberation and action
Offer little in the way of comparative possibilities to benchmark the current organization with the best practices of similar oragnizations
Are inflexible and difficult to customize
How does Cap-Chek propose to improve on current approaches?
Several features of Cap-Check help guarantee increased assessment efficacy.
Cap-Chek will be browser-based making it accessible to anyone with an internet connection and a browser
Cap-Check will be real-time with immediate collection of data as submitted by each evaluator
Cap-Check will present evaluation results in real time making the display and analysis of collected evaluations nearly instantaneous
Cap-Chek will be supported by a database of historical activity that can be used in a variety of ways to assist assessment and evaluation of a current using organization
The assissment vehicle itself will be database driven offering the possibility of rapid modification to suit changing conditions or the development of entirely new assessment frameworks for unique situations that fall outside of present best-practices